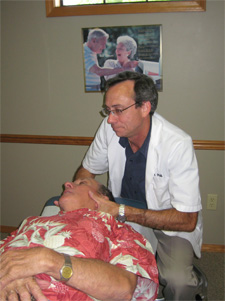 ​On this page you'll find a description of the wide array of services our practice offers. But we know what's important isn't just what we offer, but how we offer it. You can count on our chiropractic professionals at Ozark Chiropractic Clinic to possess the knowledge, expertise and caring attitude, which will satisfy all your individual needs.
What Sets Us Apart
Our goal is to provide silver tray service to all patients. Our office is a place where genuine care and concern for our patients is always our highest mission.
PAIN

Chronic Pain
Arm Pain
Shoulder Pain
Hip Pain
Elbow Pain
Leg Pain
Back Pain
Neck Pain
Foot Pain
Knee Pain
Wrist Pain
Bursitis
Carpal Tunnel Syndrome

Headaches
Migraines
Muscle Spasms
Numbness
PMS
Sciatica
Scoliosis
Sinusitis
Slipped Disc
TMJ
Whiplash
Golf Related Pain
Arthritis Pain

GENERAL

Allergies
Dizziness
Fatigue in muscles or tendons
Muscular aching, burning, throbbing, shooting, stiffness or stabbing
Muscle twitching
Numbness and tingling sensations
Tingling, burning or aching feelings in the calves, thighs, or feet
Restless legs/feet
Lack of energy
Morning stiffness
Wake up not feeling refreshed

Difficulty concentrating
Difficulty thinking
Memory loss
Recurrent migraine or tension-type headaches
Depression
Anxiety
Constipation, diarrhea, abdominal gas, nausea, or heartburn
Strong urge to urinate, or pain in the bladder
Diarrhea and/or constipation
Abdominal pain
Swelling in fingers or toes, or any type of joint swelling.
WELLNESS
Spirtitual Nutritional
Phsyical Mental